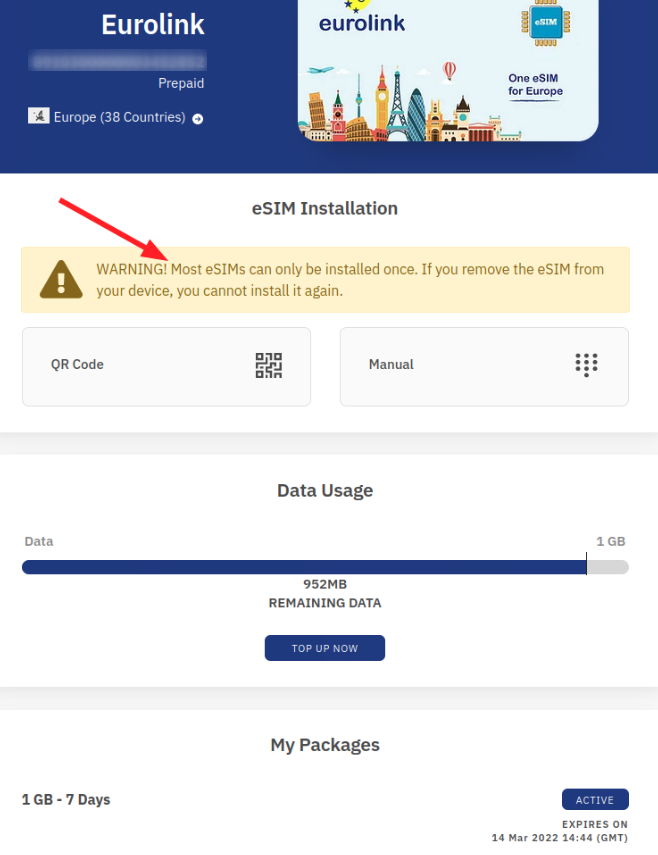 Back in 2017, I wrote quite a number of blog entries about an upcoming technology: Virtual SIMs, also referred to as eSIMs. As with many network technologies, it took a number of years before things end up in the mass market. But it has finally happened, and an interesting ecosystem has grown around downloadable SIM cards. One use case that has become popular are downloadable SIM cards which replace physical SIM cards when a subscriber of a network operator buys a new eSIM enabled device. A second use case is the convenient distribution of (temporary) prepaid roaming eSIMs, which are available these days for little money. Due to their low price, they are ideal to experiment with in practice.
Some Technicalities First
In the rest of this blog series, I will refer to eSIMs or virtual SIMs. That's not quite correct, however, but these are the terms that many people use. So let's quickly define the technically correct terms before going on. The physical chip that is soldered onto the device is called an eUICC, and most people would probably say that's the eSIM. But that's just the chip. The virtual SIM card, i.e. the piece of encrypted data that is downloaded into the eSIM is called a 'Profile'. Yet others call it a 'Subscription'. Have a look at my 2017 tech intro series for details. In this post, I'll use the word eSIM both for the physical chip and the downloadable profiles, even if that is not quite correct from a technical point of view.
Getting My First eSIM (i.e. my First Profile)
Today, there are several portals such as eSIMdb and Airalo which offer eSIMs for international roaming. I've used Airalo for my experiments, because I've come across them first, and their web page and order process is snappy. While Airalo wants you to download an app to the phone, this isn't necessary, it's just a storefront and doesn't interact with the physical eSIM in a mobile device at all. If you have a PC available, it's much more convenient to order an eSIM from there instead of on the mobile phone.
Buying an eSIM (i.e. Buying a Profile)
So here's how the order process works from a PC: In the web store, one selects the country or region in which the prepaid roaming eSIM is going to be used in. There's usually a number of options and I selected an EU roaming SIM with 1 GB of data for 5 US dollars as my first eSIM. Airalo accepts credit cards and Paypal payments, and I chose the later. Immediately after the payment has gone through, Airalo generates a 2D barcode that can then be scanned from the phone, either with the camera app or from inside the SIM card settings dialog in the phone's general configuration menu. More about what the barcode encodes in the next episode.
Installing the eSIM (i.e. installing the Profile)
Once the 2D barcode is scanned, the phone asks if the eSIM should be downloaded. This is then either done over an existing cellular connection, if another (physical) SIM card is already installed in the device, or over Wi-Fi. I tried both methods to make sure this is not only theory.
And then… Wait a Bit… and Create an APN
Once the eSIM (i.e. the profile) has been downloaded, the mobile device starts a network search and tries all networks it finds. I tried two different eSIMs (i.e. profiles), and for the first one, I just had to wait until the process was finished. This can take a couple of minutes, however, as there are a lot of frequency bands and several network operators on air. For the second eSIM, however, I had to manually create a new APN configuration and activate it. Airalo pointed this out after the eSIM purchase, but I didn't spot it straight away and wondered for a long time why the device would not register to any network.
Summary
Overall, buying and downloading an eSIM is quite easy to do, and scanning the 2D barcode with the camera app is an action most people that use a smartphone these days are accustomed to. Manually setting an APN, however, will likely puzzle a lot of people, as that is not something most people do every day. Whether this step is necessary or not depends on the eSIM that is downloaded. I will describe why that is the case as well as go into many more technical details in a follow up post, so stay tuned!