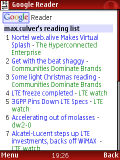 Looks like I finally found a Google Application to which there is nothing comparable form my use on both notebook and mobile phone: Google Reader for blog reading.
In the past I've been using Thunderbird for the purpose but it hasn't been very practical over time for me since I don't have a lot of time to read my blog feed on the notebook. So I was falling more and more behind on the feed up to the point when I simply had so many messages that I had to erase the backlog every now and then and start afresh. So I decided to give Google Reader a try because it is both on the desktop and on the mobile. After using it a while I have to say that the experience is great.
Now I can read my feed while commuting and can manage my feed, i.e. insert and remove blogs on the notebook or do some follow up research if required. Perfect! The picture on the left shows how Google Reader looks with Opera Mini. Nokia's built in browser renders Google Reader in the iPhone version, which is a lot nicer, but since the browser doesn't have a full page scroll feature it's not really usable. Too bad but people have been complaining about this missing feature for years now… On the other hand, however, the stripped down version is a lot better for commuting, as more often then not there's only a 2.5G network available.
Anyway, if you have trouble keeping up with your feed and have some time during your daily commute, Google Reader is the solution for you.