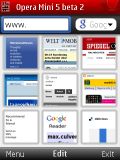 Yes, I am a great fan of Opera Mini and I'm delighted to report that they are moving forward and have made a beta of version 5 for download. It looks like Opera has updated the user interface primarily for touch displays and it indeed looks much sleeker than the previous versions. Well done indeed, I like the looks of the new user interface very much!
However, there are a couple of changes that I don't like a lot which I think Opera should think about again:
First, the beta 2 needlessly deteriorates the browsing experience on non-touch devices and I happen to use one of those (with a Nokia E75). First, the current beta no longer seems to allow scrolling through a page with the 4-way key, only the keypad (2, 4, 6 and 8) can be used. That's really a let down since the 4-way key is much more conveniently located for the thumb than than the keypad on most devices.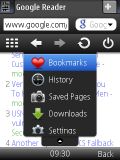 Second point: The vertical scrollbar is hidden after a couple of seconds which makes it difficult to judge of how much more text there is further down until you scroll down some more. Once could argue that it's good enough to see how much of the page is left when scrolling but for me it doesn't quite work like that.
And third: I really had trouble finding the menu entry for synchronizing my bookmarks. Equally, it took me ages to find out how to change the shortcuts that can be reached via the # key or, if you have a touch device, via the pictures on the main screen. Touch device users would have probably found it much quicker as it's normal to just touch a shortcut icon with the finger, keep it pressed and wait until a context menu pops-up. When navigating by keys that's not really obvious.
All these things are simple to fix and I hope Opera makes those little adjustments before releasing the final version. And just in case they don't, I'll tuck away a copy of Opera Mini 4 in case I need to reinstall it.
Thanks to IntoMobile and Stefan Constantinescu, saw it there first!