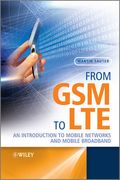 Back in 2006, I published my first book in English (Communication Systems for the Mobile Information Society) on the different network technologies available at the time (GSM, GPRS, UMTS, WiMAX, Wi-Fi and Bluetooth). I've been more than pleased with the success and the feedback I got over the years. But things have certainly moved on since then so it was about time to release a second edition.
And things have progressed well, the second edition, now titled "From GSM to LTE – An Introduction to Mobile Networks and Mobile Broadband" is almost ready for shipping. I'm enormously happy I've finally managed to do it because a lot of things have changed in the past 5 years. Consequently a lot of additional material made it into the new edition:
In the chapter on GSM, I've included up-to-date information on the MSC R4 Bearer Independent Core Network architecture to which many network operators have migrated their circuit switched voice and SMS infrastructure over the last few years or are in the process of doing so. Little has changed in the GPRS/EDGE chapter but the UMTS chapter has been almost a complete rewrite. 5 years ago, 3GPP Release 99 with its dedicated channels was state of the art and HSDPA was just on the horizon (but already described in the book). In the second edition, I rewrote the chapter to put HSDPA and HSUPA in the focus instead of R99 dedicated channels, which are nowadays only used for voice and video calls.
And then of course, LTE is a must, so I've added a full new chapter that gives a solid intro to the new radio access technology and the new core network architecture and its interfaces to various other network technologies (GSM, UMTS, CDMA). The book then goes on and has a look at WiMAX, where not a lot has changed since the last edition. Some significant additions can be found in the Wi-Fi chapter, with new material on 802.11n, Wireless Multi Media (WMM), significant additions to the security section, etc. etc. And finally in the Chapter on Bluetooth I brought the text up to date with enhancements such as the new pairing variants.
As you can see, the updates are plentiful and it has kept me quite busy in the last couple of months. So if you are looking for one single resource that gives you a solid introduction to all these technologies, then this is the book for you! At the moment it's listed on Amazon for pre-order and it should become available in the next two weeks. And should you attend the Mobile World Congress in Barcelona in February and can wait a bit longer, you can certainly pick up a copy from the Wiley booth there as well. I'll be there on one of the days as well so make sure you'll come by in any case! More details on that later.