In part one of of this review on the Samsung Galaxy Y Duos GT-6102, I've taken a look how simultaneous voice and SMS via two SIM cards in one phone works in practice. Equally important is how Internet access can be managed in the phone when both SIM cards are attached to a network simultaneously and how data use interacts with incoming voice calls and SMS messages. So here's part two that focuses on that.
Selecting the SIM card to be used for Internet Connectivity
Before using the data service for the first time it is necessary to configure whether SIM1 or SIM2 should be used for data. If the data service is used on a SIM card that is configured for the 2G-only transceiver chain, only GPRS or EDGE is available. If configured for the other SIM card, the 3G network is used if available. This can be changed at runtime and no reboot is required. The picture on the left shows how this is configured in the 'SIM card manager' option in the Android Settings. In the example, data service is currently configured for SIM1, while outgoing voice and SMS messages are configured for SIM2 as can be seen by the blue '2' logo in the status bar.
Roaming Blocker Settings for Internet Connectivity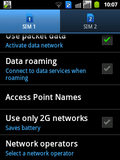 Per default, the option to use the mobile network for data service while roaming is disabled in Android to prevent high data charges from accumulating unintentionally. As you can see in the picture above SIM2 is from a foreign network operator and thus this SIM roams in the country which is indicated by the little 'R' above the second signal strength indicator in the status bar. When switching data service over to SIM2 in this configuration, the data service remains inactive until I activate data roaming for SIM2 via the standard Android is enabled as shown in the second picture. As you can see there, data options are available for each SIM card separately so the roaming blocker can be used with one SIM card only, for both or for non of the two. Also, Access Point Names (APNs) can be configured separately for each SIM card. If you have two SIM cards of different countries in the device and want to use each for data service in the home country, the following settings are required:
Deactivate data roaming on both SIMs to ensure you don't use the data service accidentally while roaming. 
In the SIM card manager menu entry as shown in the first picture, simply switch data service from SIM1 to SIM2 or vice versa once you arrive in the other country
Toggle the "use only 2G networks" option shown in the second picture to assign the 2G/3G transiever to the SIM card that is used for the data service. It's a bit strange that this is not done together wtih step 2 but something one can live with.
Completely Deactivating Cellular Data Use
If the main use of the phone is for voice and SMS messaging while Internet connectivity should only be established over Wi-Fi, it's also possible to completely deactivate cellular data use for both SIM cards. This is done by either selecting SIM1 or SIM2 for data services and by then disabling the "use packet data" option in the network menu.
Incoming and Outgoing Calls During Data Use
So what happens to incoming our outgoing calls or SMS messages while you browse the web or you use other applications that require the cellular data service? Let's say you use SIM1 for the data service and are connected to a 3G UMTS network. In this case incoming and outgoing calls and SMS messages on SIM1 do not affect Internet connectivity, they run in paralell over the UMTS network. An incoming voice call on SIM2, however, interrupts the data session for the duration of the call as the mobile can only transmit in the uplink direction to one network at a time. While concurrent voice and data service over two independent SIMs would be nice it is at least good to see that incoming calls and SMS messages on SIM2 are not missed because the smartphone is busy transferring data via SIM1.
Wi-Fi Hotspot Functionality and Performance
An now comes the kicker: As this 139 Euro phone runs Android 2.3 it includes the Wi-Fi hotspot functionality to wirelessly tether notebooks and other Wi-Fi based devices via it's 3G cellular connectivity to the Internet. I gave it a try with my netbook and got flawless performance, round trip delay times of 100 ms and a downlink throughput of around 6 MBit/s, the maximum that can be reached with a HSDPA category 8 device. In the uplink direction, I only reached 384 kbit/s, so only R99 channels are available in the uplink. Not an issue at all as this speed is still good enough for most purposes and one can't really complain for that price.
Summary
In summary, voice and data service work well alongside each other on the Duos Y and it's very good to see that incoming voice calls on one SIM are not missed because data is transfered on the other. The data roaming blocker works and can be disabled if necessary for each SIM card separately and the 2G/3G transceiver chain can be switched from one SIM card to another via the settings menu without resetting the phone, something that comes in handy when moving from one country to another.
And this concludes part two of the dual-SIM review. One question now remains: How usable is Android on a sub-150 Euro device!? Stay tuned for part 3…