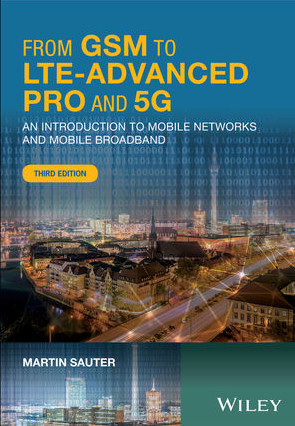 Time flies and it's already 3 years since the previous edition of my book became available. Time for an update and I've worked hard over the course of the past 12 months to ensure my introduction book on wireless networks continues to reflect the latest state of how the technology is deployed and functions in practice. A lot of things have happened in the past three years so I had to adapt the title a bit and the third edition is now called 'From GSM to LTE-Advanced Pro and 5G'! So what's new?
Even More on LTE
Most innovations in recent years have focused on LTE so I significantly extended and enhanced the chapter on LTE. Major new and updated topics include a description of the different implementations of LTE Carrier Aggregation (CA) in today's networks, mobility management, cell reselection and handover procedures in practice, additional information on the TD-LTE air interface, IPv6 in mobile networks, Network Function Virtualization (NFV) and Narrow-Band Internet of Things (NB-IoT). At the end of the chapter an introduction is given to the current development status of 5G radio and core networks in 3GPP.
VoLTE Has Become a Reality!
After many years, Voice over LTE (VoLTE) has finally become a reality in practice and hence I significantly extended on this topic and created a separate chapter for it. Additional information I've added focuses on the VoLTE call establishment process, dedicated bearer setup, header compression, speech codec and bandwidth negotiation, supplementary service configuration and VoLTE emergency calls. In addition, the chapter now also includes details on Voice over Wifi (VoWifi) and an introduction to next generation public safety networks (Mission Critical Communication) over LTE.
Wifi and Bluetooth Stuff
In the chapter on Wi-Fi, there are now additional sections on the use of WPA2-Professional with certificates for authentication in large deployments such as the global Eduroam network and the new WLAN 60 GHz air interface (802.11ad). And finally, I've also updated the Bluetooth chapter and added a description of Bluetooth Low Energy (BLE)!
Get It Anywhere!
As is common now the book is available in print and also in ebook format and you can get it online e.g. at Amazon and of course also at your local book dealer! I've noticed that many universities have a Wiley online subscription and that the previous edition is available on those campuses in ebook format as well. I have no idea how long it takes before the latest edition becomes available in such subscriptions but I hope that it won't be long. If you decide to have a look, no matter in which format, I hope you like the result!