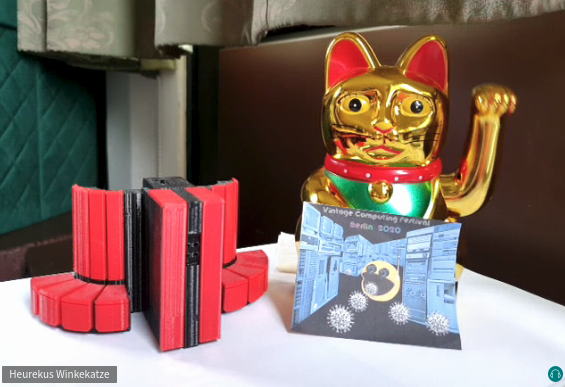 Last weekend, I spent most of my waking hours at the Vintage Computing Festival Berlin. And as has become the new normal in our pandemic new world, it has taken place online. As I was running the BigBlueButton video conference server for the event I have learned a lot over the past weekend. To my relief but also somewhat to my frustration, I still don't know where the capacity limit actually is.
For the event I set up a BBB server with 16 dedicated virtual CPU cores in Hetzner's data center in Nuremberg Germany. While such an installation costs around 160 euros a month, vCPUs and be added and dropped as required so except for the weekend, I ran the server on only 2 shared vCPU cores in the weeks leading up to the event for 6 euros a month. This way, exhibitors could test their setup without hefty charges on the organizer's side.
BBB Load During the Day
So how did the server fare during the event? In total we had 15 exhibitors and around 60 simultaneous people visiting most of the time. As we were not tracking individual visitors it's hard to say how many there were in total over the two days. Not everybody obviously stayed for the whole two days. So let's say everybody who came stayed for 4 hours, which would bring the total count to around 200 visitors. A small number perhaps compared to the 2000+ people we usually have for a physical event. However, most visitors at a real event are 'walk-in-customers', i.e. people visiting the technology museum where the event was hosted in previous years, or just seeing the advertising on the street during the event and stopping by. Obviously you don't get such visitors during a virtual event, only people with a real and deep interest in vintage computing show up. From a performance point of view the server did not break into a sweat with 60 simultaneous people in 15 rooms. With around 15 simultaneous videos from the virtual exhibition desks, the server's combined CPU load was around 25% most of the time and network throughput was around 40 Mbit/s. In other words, a rather insignificant load for a Gbit/s Ethernet link.
BBB Load During the Party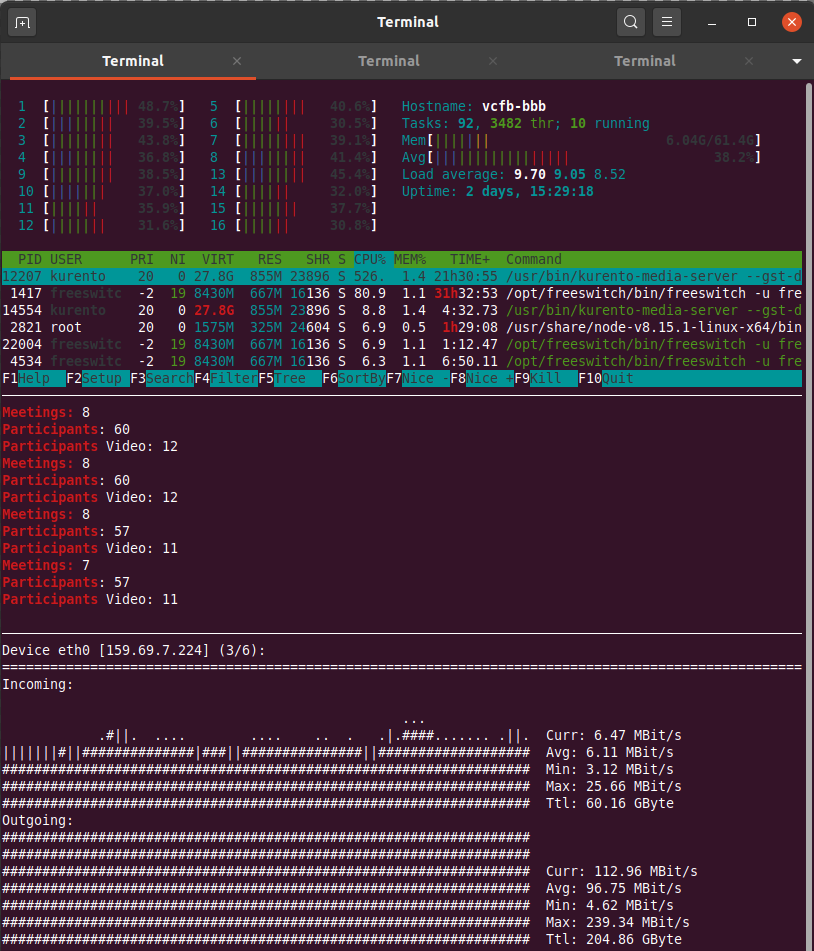 In the evening we had a 8-bit music event and much to my surprise a total of 60 people showed up. The music and atmosphere in the virtual room was great and as the evening went on, more and more people activated their video cameras to show how they were celebrating at home. From a technical point of view I started to get a bit nervous because 60 people with 10 videos in a single room roughly results in 10 video streams being sent to 60 people simultaneously, i.e. 600 video streams. But the server took the load quite well, with total CPU load at just around 40%. On the network, we had a throughput of around 150 Mbit/s. I also noticed that the CPU load did not increase exponentially or even only linearly when people added more video streams. In fact, the curve was much flatter. So I still don't know what the single room limit would be on such a server. Perhaps 60 people with 20 videos, which would not make much sense as one can't observe 20 videos, or 120 people with 10 videos? Probably yes, probably more, but there's no way to tell. But one thing I got out of this was that even with 60 participants and 10 video streams, my web browser did not slow down. Audio and video were still flowing easily and also receiving and sending chat messages in the room worked smoothly. Good to know!
In addition to the exhibitions we had a presentation stream again, as we would have had for a physical conference as well. I used a small separate BBB instance for this to be independent of the load of the main server and all talks were streamed over media.ccc.de that is based on the great infrastructure of the Video Operation Center (VOC) of the Chaos Computer Club. For some talks we had 80 simultaneous viewers, which a 16 vCPU BBB server could probably have handled as well based on the party experience above. But then you never know in advance how many people you deal with so I was more than happy to use the VOCs resources for live streaming. Also, once we are done with the editing, the videos will be hosted on their platform for anytime viewing.
So there you go, I learnt a lot on the technology side over the weekend. Unfortunately I saw only a few of the exhibitions as I was busy directing the presentation stream. Let's hope we don't have to do the Vintage Computing Festival again in the virtual domain next year.