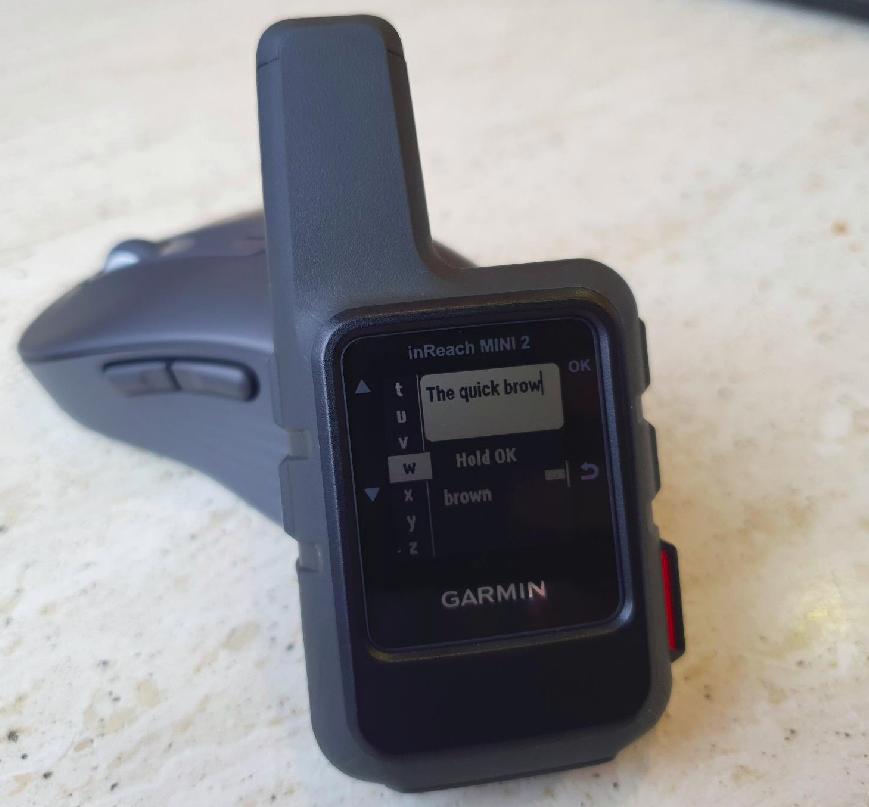 This might seem like a benign topic, but how does one compose text messages on the Garmin InReach Mini 2? As you can see above, the device has no keyboard, not even digit keys at the front. This is quite intentional, as I wanted to have a device that is as small and as light as possible for emergency communication with members of the household, should local terrestrial networks fail. What the device has, however, are five keys at the side. One of them is the firmly protected EMERGENCY button to contact an emergency center. On the right, there's an OK and a BACK button. And finally, there's an UP and DOWN button on the left. Not much to work with.
There are actually several ways of composing and sending messages:
Preset Messages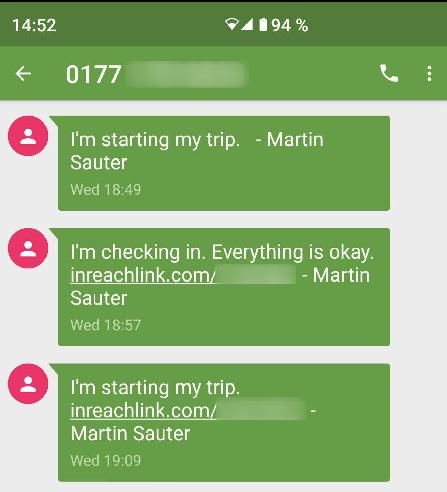 The easiest way is to use what Garmin calls a 'preset' message. There are three such predefined messages which contain text that is predefined by Garmin and can not be changed. Via Garmin's web interface on the PC, it is however possible to configure to which destinations the three messages will be sent. Several destinations can be given, but all three messages share the same recipients list. The texts read as follows:
I'm checking in. Everything is okay.
I'm starting my trip.
I'm ending my trip.
While the first text works for my usage scenario, the other two make little sense, so I wished I could change them. The good thing is that an unlimited number of preset messages are included even in the lowest tier subscription. When sending a message, the device will include the GPS coordinates, speed and altitude, if the GPS receiver has acquired a position already. Otherwise, the device asks if the message should wait until a location is available, or if it should be sent straight away without a location.
Standard Messages with Predefined Content
The next option the device offers are predefined texts which can be selected and then either edited or sent straight away, with or without GPS coordinates. For such messages, it is also possible to select one or more recipients, either from a list of SMS, eMail or InReach addresses, or by typing in the address or number. To make things easier, predefined texts and the address book can be edited on the Garmin Explorer website and then synchronized to the device. Bear with me for a minute on how that works. Unlike 'preset' messages, sending standard text messages will count against the number of messages that are included in the monthly subscription or will be charged separately. For details, see the previous blog post on this topic.
Standard Messages with Free Content
And finally, it's also possible to send messages with up to 160 characters that can be freely composed. Some patience and stamina is required for this, however, as one has to scroll up and down a list that contains all characters of the Latin alphabet, numbers and special characters. It's possible to switch between upper and lower case letters and the 'editor' offers word completion in several languages. All of this is accomplished with the up/down/ok and return key. Not a fun thing to do, but if the Mini 2 is the last device standing after a power outage, that's a relative thing.
Preset / Predefined / Standard Messages with the Companion App
There's also a companion app available for Android and iOS that communicates with the Mini 2 over Bluetooth. So if terrestrial networks have failed or there is no coverage at your location, but you haven't run out of power on your smartphone yet, then this is the best way to compose, send and receive messages via satellite. The app is also required to synchronize the 'preset' message recipient list, the predefined texts, and the address book, which can only be edited on the web interface. The app can also be used for navigation, tracking and other things, but that's not my use case, so I won't look at that in my review.
Summary
I very much like the approach, because even in the worst circumstances, it's possible to send and receive freely composable messages directly from the device, and one doesn't depend on a smartphone. And if the situation is not just that bad yet, one can use the smartphone and all the touch screen size and comfort goodness it offers. And while we speak about power consumption: So how long will the device last until it runs out of power? Well, that depends and I will have a closer look at that in the next episode.