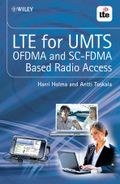 Harri Holma and Antti Toskala have done it again! Already famous in the industry for their bestselling books on UMTS and HSPA they have gone ahead and have published a massive book around the LTE air interface. So if you want to learn the ins and outs of layer 1 to 3 of LTE, the book is an ideal pick. Be warned though, bring massive amounts of time with you, it'll take some time to go through the 400+ pages.
Before picking up a copy it's important to realize that the book focuses primarily on the air interface and not the overall system. Chapter 3 contains an overall system architecture overview but it's too short, has no signaling flows and doesn't put things into perspective to serve as an overall beginner's introduction to LTE.
The book starts to go deep in Chapter 4. OFDMA, SC-FDMA basics are explained and MIMO is also not missing. Chapter 4 focuses on the physical layer and introduces the physical channels and physical layer procedures such as HARQ, timing advance, power control, paging, random access and many other things. The MAC and RLC protocols follow in Chapter 6. Chapter 7 focuses on mobility in idle mode and handovers while being connected. Radio Resource Management is treated in Chapter 8 and performance in Chapter 9. Interested in how many VoIP calls an LTE cell can handle simultaneously? Chapter 10 gives an exhausting answer.
Chapter 11 then focuses on performance and the challenges involved in developing front-end and baseband components for base stations and mobile devices. MIPS are out, GIPS are in and digital interfaces between the front-end and the baseband components need to shuffle data backwards and forwards at speeds well beyond 1 GBit/s. Chapter 12 then focuses on LTE TDD mode for China and the final pages of the book are dedicated to the evolution of HSPA and how that compares to LTE.
All in all, a great book with lots of air interface details. I wouldn't recommended it for the beginner who wants to learn about LTE but rather for those in the industry needing a solid introduction of how the LTE air interface works. Kudos to the authors, I've learnt a lot!
Here's a link to Amazon where you can check out the table of contents and read some sample pages.