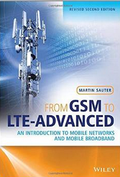 It's been an exciting year so far with many projects and many great things happening and I'm very excited to announce the completion of one of my bigger projects this year: As of today, the third incarnation of my book (now) titled "From GSM to LTE-Advanced" has been published and is now available in book stores online and offline!
If you've bought a previous edition you might have noticed that the title has changed slightly to reflect that it now also contains information not only about LTE but also about LTE-Advanced. That's not the only update, however, as lots has happened with other network technologies as well. The previous edition is from 2011 and from my point of view the following things have changed quite a bit since then and hence are now included in the book:
In Chapter 1, I've included additional information on the 3GPP Release 4 Mobile Switching Center architecture that is now used in most networks.
In Chapter 2, only few updates were necessary because the deployed feature set of GPRS and EDGE networks have remained stable in recent years.
Chapter 3 was significantly enhanced as High Speed Packet Access (HSPA) features such as higher order modulation, dual carrier operation and enhanced mobility management states are now in widespread use.
While only few LTE networks were in operation at the publication of the previous edition, the technology has since spread and significantly matured. Chapter 4 was therefore extended to describe Circuit Switched Fallback (CSFB) for voice telephony in more detail.
Additionally, a section on Voice over LTE (VoLTE) was added to give a solid introduction to standardized voice over IP telephony in LTE networks. Furthermore, a description of LTE-Advanced features was added at the end of the chapter.
As the global success of LTE has significantly reduced the importance of WiMAX, the chapter on this technology was removed from this revised edition.
In Chapter 5 on Wi-Fi a new section was added on the new 802.11ac air interface. Also, a new section was added to describe the Wi-Fi Protected Setup (WPS) mechanism that is part of commercial products today.
And finally, the chapter on Bluetooth has also seen some changes as some applications such as dial-up networking have been replaced by other technologies such as Wi-Fi tethering. Bluetooth has become popular for other uses, however, such as for connecting keyboards to smartphones and tablets. The chapter has therefore been extended to cover these developments.
There we go, as you can see I spent a lot of effort on the update. So whether you are a first time reader or consider 'upgrading' to the latest edition I hope you like the result!