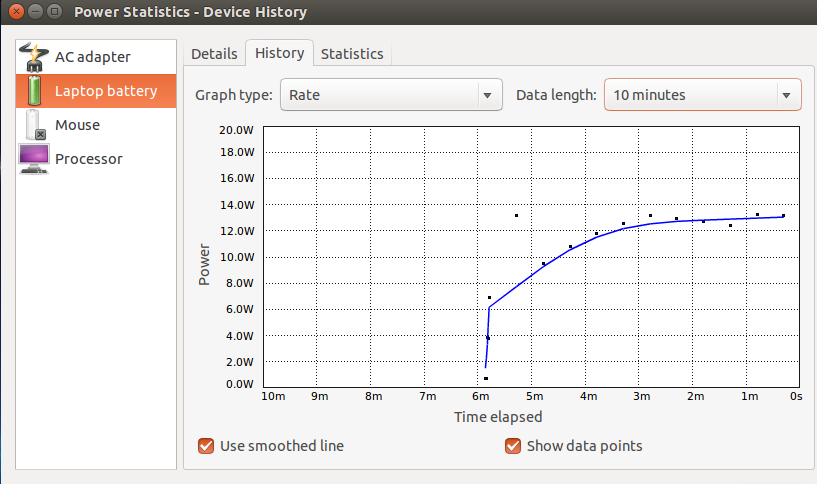 Ubuntu visualizes current and previous power consumption and recharge behavior in a couple of nice graphs as shown in the screenshots above and below. When I have screen brightness quite high but not much else is going on, my notebook draws around 12-13 Watts of power and my battery lasts around 4 hours. Turning up brightness, running a virtual machine or two and streaming a video from Youtube and power consumption is obviously significantly higher. Sometimes it would be nice, however, to not only see a graph but to get a reading of how much power my notebook takes at any point in time. Fortunately there's a command for that.
And here it is what the command and the response looks like:
cat /sys/class/power_supply/BAT0/power_now

1299100
The response translates into a current power consumption of 12.99 watts. When running two virtual machines in which all programs are currently doing nothing, power consumption jumps up over 14.5 watts. Not a lot of difference when your are connected to the mains but a watt or two more or less makes a lot of difference when you are running on a battery. If I dim the screen I can get power consumption down to 10 watts but it has to be pitch black in the room for this setting to be actually useful.
Coming back to the nice graphs Ubuntu generates I have another one at the end of the post that shows how the notebook reduces the charge rate around 45 minutes before the battery is completely full from an initial 32 watts down almost 0 as charging has to slow down once the battery is almost full to avoid damage.