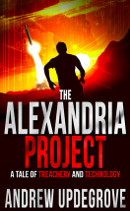 I've been doing a lot of intercontinental traveling lately. Especially during day flights and for the long jet lag nights where nothing productive springs to mind it's good to have an entertaining book at hand. For a long time I was a bit despaired when it came to techno thrillers because most main stream writers just don't get the technology right. But then I've found 'Indie' (independent) authors and lots of interesting books that get the technology right. My latest discovery is Andrew Updegrove's 'The Alexandria Project'.
The author doesn't go into the technical details as much as Andrew Diamond in Impala, which I reviewed recently, but still enough to keep it credible for me. 'The Alexandria project' has a typical techno-thriller start: Introverted hacker discovers his servers at work have been hacked and everything goes downhill from there. In this story, the servers are at the Library of Congress and serve as a test bed for new security mechanisms that are destined to be rolled out across other government agencies once they've passed their checkout test. Things go bad fast for the protagonist Frank Adversego as he's soon selected as scapegoat and everyone from the FBI to the CIA start going after him. On the run from the authorities, he works on finding out who's really behind the evolving plot and the story has a number of interesting twists and turns including venture capitalists and startup firms that unwittingly help him to find the bad guys. I especially liked this part of the story as Frank's attitude towards venture capitalism funding nonsense is on the borderline between irony and sarcasm.
A great story line and many twists and turns make it an enjoyable read. There's a sequel to the book which I'll certainly read in due course as well!