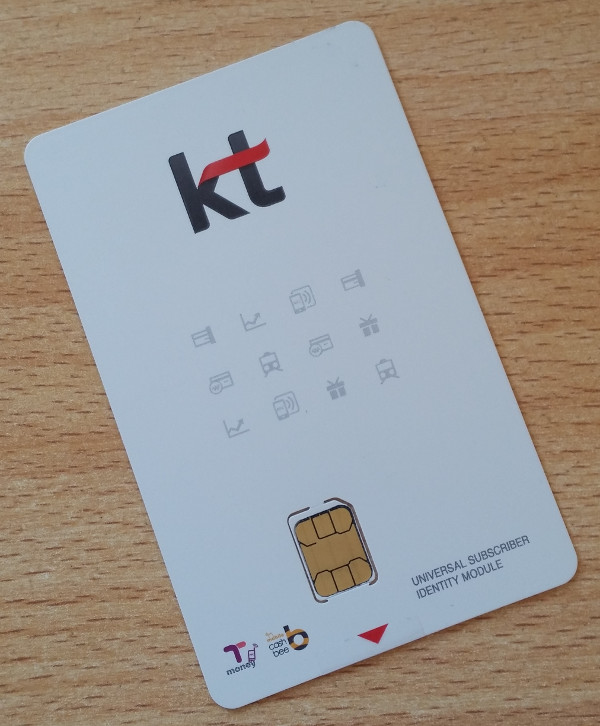 Recently, I've been in Seoul again for a week. When I was there back in 2013 it was straight forward to buy a SIM card at the airport so I thought I'd do it again this time around. While selling prepaid SIM cards was something of a novelty then it seems to have become a lucrative business as there were a plethora of options this time. One has to be careful however, as not all SIM cards one can get at the airport can be used straight away.
This blog on prepaid SIM cards gives a great overview of the many many options now available. I'm glad I took the time to read through all of it as I then knew exactly what I wanted to have and where I would get it at the airport. I decided to get a Olleh/KT (Korea Telecom) data-only SIM card with an unlimited data volume for 5 days for 25.000 won which is around 20 euros. Options for 10 and 30 days are also available and they also have SIM cards with voice+data services activated. Since I was staying for less than a week and as I wanted to use Wi-Fi calling (over that SIM card from a second phone via Wi-Fi tethering) for my voice calls there was no need for a voice option.
KT has a stand at the arrival level where an employee activated the SIM card for me in their system and made sure it worked with my phone before I left. No settings had to be changed on my phone, it configured the correct data APN automatically. The whole process took a few minutes and I was running my first speed test a few minutes late on the bus to Gangnam. The prepaid contract points out (if you read it) that the data rate is limited to 5 Mbit/s which is actually done in practice. For some things that would have been too little, but I've been using it for streaming Netflix on the PC several times during the week without any problems. In total I consumed around 8 GB of data during the time and I didn't use a any other Wi-Fi than the tethering hotspot of my phone. Also, my German network operator based VoWifi service and Skype video calls worked perfectly.
Not all offers are as seamless as this one, however. A friend of mine got a SIM card in a convenience store at the airport, also from KT, but it took over a day for it to get activated. Far from ideal so in retrospect I was glad I opted for the KT stand in the arrival hall.