While testing the maximum transmission speed of my category 6 HSDPA terminal (Motorola V3xx, theoretical maximum of 3.6 MBit/s) I found out that Vodafone Italy is applying traffic shaping to file downloads to slow them down. Dear Vodafone, are you sure this is really necessary?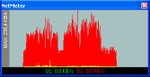 Each TCP connection seems to be limited to a speed of around 700 kbit/s. It sounds like a lot but nowhere near enough to test the maximum downlink speed of the connection. Only when downloading three files in parallel did I reach the ceiling of around 2 MBit/s with average network reception levels. Have a look at the picture on the right which shows how the accumulated transmission speed increases with 1, 2 and 3 simultaneous file downloads.
To make sure it was not a limitation on the server side I downloaded files from different servers. Also, I compared the download speed in the network of TIM where a single file download was enough to push download speed to over 1.4 MBit/s (with a category 12 terminal, theoretical maximum speed of 1.8 MBit/s).
Also I noted lots of TCP packet losses on the Vodafone Italy network during the day and in the evening while during the morning everything was all right. Strangely enough performance of the network was o.k. when I used a roaming SIM card from Vodafone Germany just minutes later. In this case the GGSN in Germany is used rather than a GGSN in Italy. Looks like they've got a huge bottleneck in that corner.
Looks like TIM will keep me as a customer when I am in Italy, their performance has been flawless over weeks.