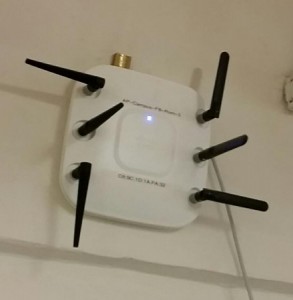 When I recently configured a computer for Eduroam access in Vienna I took the opportunity to have a quick look at what's in the air in Vienna University's main reading room. It turned out that it was much more than I thought. In short, they use pretty much ALL available spectrum in the 2.4 and 5 GHz bands:
Channels in 2.4 GHz (20 MHz each)
1
6
Channels in the 5 GHz band (40 MHz each)
36
44
52
64
100
108
132
In total that's an impressive 320 MHz of spectrum for 350 potential users. That should be more than enough to satisfy demand in that room for years to come. In case you care for the details, here's a link to the output of the site scan in text format with lots of details about the configuration and features used by the access points.
Comparison to Current Spectrum Use For LTE
Let's compare that to the 20 MHz LTE channels that are currently used for high speed cellular access. In dense urban areas, some network operators might offer 20 + 10 MHz or, if they are really pushing the limits, 20 + 20 + 10 MHz in the 1800 MHz, 2600 MHz and 800 MHz bands. The value has to be doubled to account for the uplink and downlink direction so a very advanced network operator uses around 100 MHz for LTE today. Multiply that number by the number of network operators in a country, typically 3-4 and account for most of them not yet using that much spectrum and you end up at around 150 MHz of spectrum used for LTE today. And that's for more than 'just 350' people in that reading room.
In other words, they are definitely not capacity starved in that reading room…