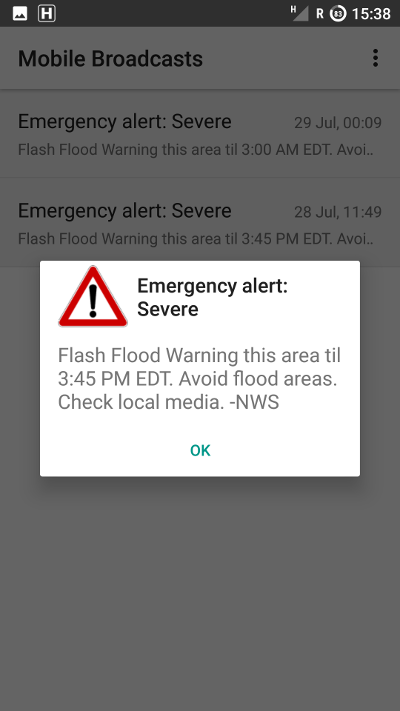 This time I was a bit less surprised when I received a CMAS warning message. However instead of a test message like in the Netherlands it was a real warning message from the US National Weather Service. Perhaps this is a normal occurrence for most Americans but in Europe only the Netherlands is using a cellular network public warning system so it's still worth to blog about it for me.
I also noticed that stock Android has adopted a lot of configuration options to enable users to select which kind of warning messages they want to receive. The second screenshot on the left shows the options as implemented in Android 7. In LTE, CMAS or WEA (Wireless Emergency Alerts) as the system is now referred to is implemented by broadcasting System Information (SIB)-12 messages. For further technical details have a look at my post on the topic from last year.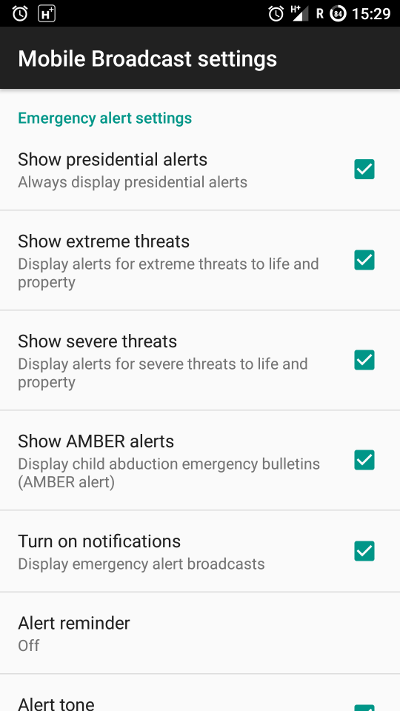 What I find a bit strange is that broadcast emergency alerts have never became popular in Europe. And that despite the system being already standardized, implemented in all mobile phones today and based on data broadcast, i.e. a single message broadcast per cell is received by all devices. Compare that to other solutions, e.g. to Katwarn, for example, that is used in some parts of Germany (and that's where the problem already starts). Katwarn is an app users have to download to receive emergency messages. Messages are not sent as broadcast but have to be sent to each device separately. Imagine the system would find widespread acceptance and thousands of devices were alerted with unicast messages simultaneously in a single cell. I don't think that would work very well… Some might probably argue that it would be too expensive to coordinate messages from different emergency services and several mobile network operators. Well, it would certainly not come for free but the US shows that where there is a will there is a way.